Burnt Announces Strategic Investment from Circle Ventures
XION is the first layer one blockchain to integrate USDC across the infrastructure stack, enabling true mainstream consumer adoption.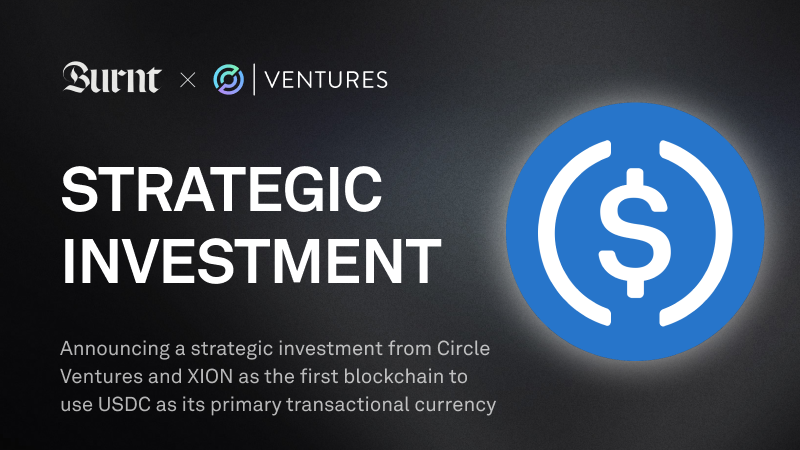 Burnt today is publicly announcing its strategic investment from Circle Ventures, the venture capital arm of Circle – a global financial technology firm and issuer of USDC. This collaboration is instrumental in making XION the first layer one blockchain to use USDC as its primary transactional currency, accelerating mainstream market adoption.
"We are proud to support Burnt in their mission of empowering developers to craft user-friendly experiences that abstract away the complexities typically associated with using Web3. With the beta launch of XION, developers can build purpose-built applications that leverage USDC for widespread adoption", said Circle Ventures Principal, Wyatt Lonergan.
To reach the mainstream market, the Web3 landscape requires easy-to-use technology and widespread use cases. XION is a Layer-1 blockchain network aimed at revamping the digital asset ecosystem with a focus on tangible use cases, such as on-chain communities, membership subscriptions, loyalty programs, and gaming.
XION will be the first blockchain to use USDC, a fully-reserved digital dollar, as its primary transactional currency. All products built on XION will display prices in USDC, allowing new users to seamlessly onboard with familiar fiat denominated pricing. In addition to this, all transactions on XION are gasless, eliminating another key barrier. To date, XION has onboarded more than 200,000 active on-chain wallets, produced over two million blocks, and processed over 1,000,000 on-chain transactions seamlessly.
XION is supported by an ecosystem of over 75 partners, who provide users with key functionality and a seamless experience. One of the world's most valued finance companies, Checkout.com powers CHRGE, allowing users to purchase assets via their credit card. Exodvs, an on-chain membership platform, allows projects built on XION to run and grow their communities. Osmosis enables user-experience enhancements through XION's pioneering implementation of the innovative Fee Abstraction module.
"Our long-term vision for XION is to empower user-friendly applications that harness the power of Web3 without the complexities typically associated with blockchains", said Burnt Banksy, CEO of Burnt. "We want to remove any friction for consumers by providing native mobile support, seamless account creation, and credit card transactions, significantly improving the base-level experience".
XION is built on the industry's most dependable and secure consensus framework (Comet BFT), inter-chain communication protocol (IBC), and developer toolkit (Cosmos SDK). This battle-tested infrastructure has over $50 billion in secured assets, supports millions of transactions, and is trusted by some of the industry's biggest projects, such as the Binance Chain (BNB), Crypto.com (CRO), Injective (INJ), and DyDx (DYDX).
About Circle Ventures
Circle Ventures supports early-stage blockchain projects and companies that can help accelerate global cryptocurrency innovation. This helps further Circle's mission of raising global economic prosperity through the frictionless exchange of value. Circle Ventures is an affiliate of Circle Internet Financial LLC, a global financial technology firm that enables businesses of all sizes to harness the power of digital currencies and public blockchains for payments, commerce and financial applications worldwide. Learn more at https://www.circle.com/en/circle-ventures.