XION Ecosystem: SubQuery Integration
SubQuery Supports XION Ecosystem with Fast & Flexible Data Indexing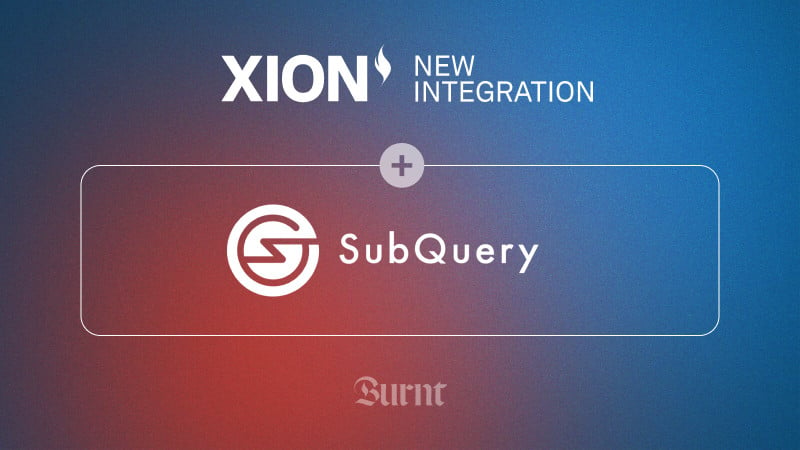 This is a cross-posted article on SubQuery's blog.
Today we're thrilled to announce our integration of the XION network built by Burnt, a web3 foundry with a mission to advance society's financial and creative freedom. XION is the first blockchain specifically built for consumer adoption by abstracting away all the complexities of crypto. Its network participants can now leverage SubQuery's leading data indexer to enhance the protocol.
XION empowers developers and brands to create frictionless Web3 experiences, with a modular toolkit that removes technical barriers for any user, anywhere. This includes native account abstraction, seamless fiat on/off ramps, direct credit & debit card purchases, familiar Web2 logins, gasless transactions, fiat denomination, and more.
SubQuery's fast, flexible, open, and decentralised data indexing solution provides blockchain developers with the tools needed to easily organise and query on-chain data for their protocol and applications. Abstracting the backend, SubQuery provides a custom API and lets developers focus on product development and user experience rather than building their own indexing solutions.
"SubQuery's integration of the XION ecosystem is a tremendous asset. SubQuery provides fast, reliable, and decentralised APIs, further enabling developers to build next-generation consumer-facing applications and harness the full potential of the XION ecosystem." 
—  Burnt Banksy, Founder
XION utilises SubQuery to leverage a fast and flexible data indexer. By doing so, XION significantly improves data querying efficiency, expedites transaction processing, and gains real-time analytics. With SubQuery's advanced indexing capabilities, XION offers users a smoother experience, while also providing valuable insights into liquidity and asset movements.
"We are committed to offering the finest experience to developers and users alike, which means providing developer tooling and services to make it easy to build, deploy, iterate, and scale your applications. Developers building on the XION ecosystem will benefit from SubQuery's fast, flexible, and open indexing solution." 
— Marta Adamczyk, Technology Evangelist at SubQuery
XION developers will benefit from the superior SubQuery indexing experience, including the open-source SDK, tools, documentation, and developer support that the SubQuery ecosystem provides. XION network participants are now able to use SubQuery's enterprise level managed service to manage their own projects, making updates as required.
Our experience with customers across all verticals in Ethereum, Polygon, Polkadot, Cosmos, Algorand, NEAR, and Avalanche (such as wallets, networks, explorers, NFT, DeFi, scanners, etc.) has helped us build the best Indexer for Developers in web3.
SubQuery is currently focused on decentralising and tokenizing the protocol to build the SubQuery Network. The SubQuery Network will index and service data from projects to the global community in an incentivized and verifiable way and support indexing XION projects, and those from any other supported Layer-1 & 2 from the outset.