XION Ecosystem: Babylon Integration
Babylon Integrates XION Testnet, Bringing Bitcoin Security to Consumer Facing Apps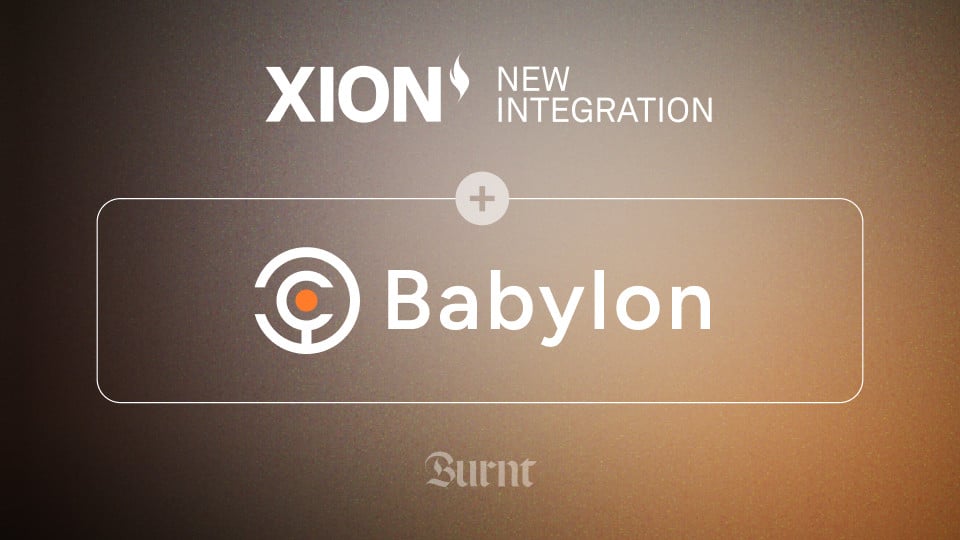 XION, dedicated to building the most consumer-friendly ecosystem, is happy to announce that Babylon, a project that brings Bitcoin's robust security mechanisms to other blockchains, has integrated its testnet.
Babylon Overview
Babylon is a project that designs security protocols for the decentralized world. Babylon's origins come from a research paper about Bitcoin security co-authored by co-founder of Babylon David Tse, a professor at Stanford and Ethereum 2.0 researcher, and the founder of EigenLayer Sreeram Kannan, and their colleagues. The project is led by a team of consensus protocol researchers from Stanford and experienced layer 1 engineers from around the world.
Babylon's mission is to scale Bitcoin to secure the decentralized world through three innovative security-sharing protocols: Bitcoin Staking Protocol, Bitcoin Timestamping Protocol, and Bitcoin Data Availability Protocol. Through these pioneering protocols, Babylon envisions a more secure and decentralized future.
Securing Consumer-Facing Applications Through Babylon Integration
XION is a layer one blockchain meticulously designed to foster widespread consumer adoption by simplifying the often complex intricacies of Web3. It achieves this through its protocol-level account abstraction, direct credit/debit card asset purchasing, fiat denomination, gasless transactions, and more. In the ever-evolving landscape of Web3, security is paramount especially for consumer-facing applications and high-value transactions. XION's unique infrastructure has demonstrated time-and-again its ability to scale to mass adoption.
The integration of Babylon and XION is an additional step towards enhancing the security of consumer-facing applications and high-value transactions. Babylon will secure XION's testnet with Bitcoin's timestamping technology, providing an added layer of Bitcoin security to the network. A potential extension is the ability to securely reduce the staking unbonding period. By leveraging Babylon's innovative approach, XION can incorporate the trust and security infrastructure of Bitcoin, capitalizing on its hundreds of billions in network value. This groundbreaking innovation arguably makes XION one of the most secure consumer-facing PoS chains in the world.
Unlocking the Future of Web3
As cross-chain applications continue to rise, the integration of Babylon and XION aims to provide a secure, scalable, and interoperable environment for developers to build the future of consumer-facing experiences in Web3. By continuously enhancing the security infrastructure, XION and Babylon are paving the way for a more unified, secure, and efficient user experience across the entire blockchain landscape. Together, XION and Babylon are not only propelling the blockchain ecosystem forward but also laying the foundation for the next wave of mass consumer adoption.